~ RPPC of W.R. Wiley ~ Man & His Animals & his Machine ~ WOW
Seller:
Classic_Chloe (1170)

View All
~Real Photo Postcard of W.R. Willey~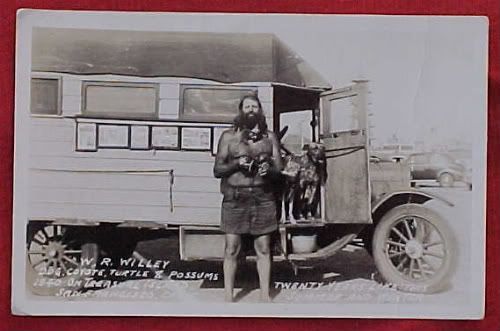 Here for your consideration is a postcard of this WILD MAN of NORTH AMERICA taken wearing his habitual outfit of SHORTS...and NOTHING ELSE!
This is an early REAL Photo postcard, as you can see...I am putting my last two featuring this WONDERFUL MAN on today, having sold all of the rest.
From what I can tell, my scanty research (and it isn't much, folks--I really have tried to find out more, because he is so interesting...PLEASE check my other auction...and look for others out there -- I have seen them!) Mr. Willey's home base was SPOKANE, Washington. But, I found that he travelled the country in this homemade vehicle (I had several cards which featured this contraption...and they were purchased... Along with his collection of WILD ANIMALS which included POSSUMS, Coyotes, & such!
I believe he must have supplemented his NATURAL LIFESTYLE by having his picture taken and selling these RPPCs.
The writing on the card above reads:
W. R. Willey, Dog, Coyote, Turtle & Possums, 1940 On TREASURE ISLAND, San Francisco, Calif.
TWENTY Years LIKE THIS
SUMMER AND WINTER
Here is a picture of the BACK of this card.
Back is NOT Divided...NOTE the Stamp Square is marked EKC, which dates this card to between 1939-1950.
There is one condition problem with this wonderful card to report. At one time, it was bent -- you can see the crease mark/line in my pictures about 1" in from the right hand side. Because of this, my price is lower on this card than on the others of Mr. Willey.
Never Mailed...Slightly soiled..only where the crease is.
This card has been in a plastic postcard envelope for as long as I have had it, which has been at least 25-30 years.
~ ~ ~
FINE PRINT:
I Prefer Payment by PayPal, Check , or Money Order in US Currency.
I prefer to ship by PRIORITY MAIL, or FIRST CLASS INTERNATIONAL. It hasn't let me down one time. Insurance is OPTIONAL, and up to the BUYER to request.
I do my best to describe the items I sell to the best of my ability. I want my ebay customers to be happy with their purchases, but also to understand that this is an auction venue, and merchandise is sold through the mail.
I AM NOT RESPONSIBLE FOR ITEMS AFTER THEY LEAVE MY HANDS. If you purchase something from me, and you are unhappy with it, please contact me; we will work something out...But, all shipping costs are to be paid by the BUYER.
I LOVE to Leave POSITIVE FEEDBACK, and DO SO For EVERY SALE!! It is my hope that satisfied buyers will return that favor!
PLEASE ~~ ASK QUESTIONS PRIOR TO BIDDING!!
Thank you for your interest.
~Chloe~